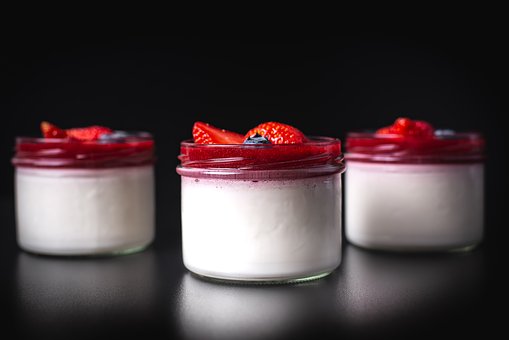 Jak rozpoznać wartościowy jogurt naturalny?
Przede wszystkim warto znać jego definicję. Ta wiedza ułatwi nam w przyszłości czytanie etykiet
W takim razie co nazywamy jogurtem?




Jest to produkt sporządzany z mleka pasteryzowanego, za pomocą fermentacji mlekowej.
Podczas tego procesu dodawane są bakterie Lactobacillus bulgaricus i Streptococcus thermophilus
(powodują fermentację). W przypadku jogurtów nowej generacji dodawane są szczepy Lactobacillus
acidophilusi Bifidobacterium.
Jak widać z definicji, nie ma w nim żadnych innych dodatków. Jogurty z mlekiem w proszku czy białkami mleka nie są już idealnymi produktami. Dlaczego? Chociażby dlatego, że mleko w proszku, mimo że zagęszcza jogurt i nadaje mu lubianą przez konsumentów aksamitną konsystencję, ma wyższą kaloryczność i…dodatek tłuszczu, jakby na to nie spojrzeć zwierzęcego. Czyli najmniej rekomendowanego przez WHO.
Dobrze by było, gdyby na etykiecie kupowanego przez nas jogurtu podane były szczepy bakterii znajdujące się w opakowaniu. Sama informacja o tym, że jogurt zawiera w swoim składzie bakterie, jest niepełna.
A idealnie? Idealnie jest wtedy, gdy mamy podany gatunek, rodzaj i szczep bakterii.
Przykład:
Lactobacillus (gatunek) acidophilus (rodzaj) LA-5 (szczep),
Bifidobacterium (gatunek) lactis (rodzaj) BB-12 (szczep).
Czytajcie dokładnie. Spotkałam się już z nie do końca rzetelnymi informacjami. Niektórzy producenci w języku polskim nie podają dodatku mleka w proszku, natomiast można to doczytać w wersji czeskiej.
Przykre doświadczenie dla świadomego konsumenta i nie do końca uczciwe podejście do obowiązku znakowania etykiet.
I ostatnia rzecz. Jogurt owocowy to już deser. I tak go traktujmy, bo kazdy zawiera w swoim składzie sporo cukru. Wyjątkiem jest jogurt słodzony oligofruktozą. Niestety jest trudniej dostępny ,
Smacznego!