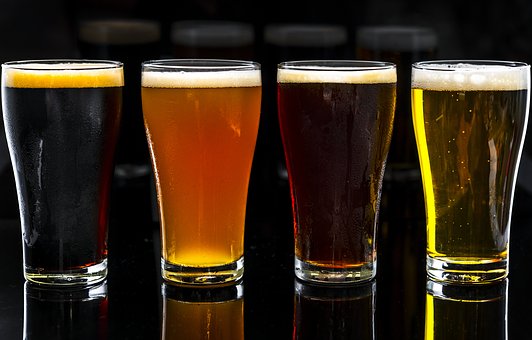 Czy piwo to napój?
Wiele osób, w okresie letnim, traktuje piwo jako napój znakomicie gaszacy pragnienie i w związku z tym zastępujący wszystkie inne produkty nawadniające. Czy tak jest?
Jakie tak naprawdę właściwości posiada piwo?
Zacznę od minusów.
Piwo na pewno należy do grupy węglowodanów prostych. Jest żródłem maltozy- cukru pochodzącego ze słodu jęczmiennego, charakteryzującego się wysokim indeksem glikemicznym.
Co to oznacza? W dużym uproszczeniu oznacza gwałtowny skok cukru we krwi i równie szybki jego spadek. A to wzmaga apetyt.
Według danych Instytutu Żywności i Żywienia, piwo pełne w 100g zawiera 49kcal.
Są to przeliczenia bardzo ogólne, ponieważ im więcej alkoholu w piwie, tym jego kaloryczność jest wyższa.
Średnio można przyjąć, że w 500ml będziemy mieli 250kcal.
Te dwa minusy to duży problem dla osób będących na diecie, cukrzyków i insulinoopornych.
Kolejnym minusem piwa, tym razem dotyczących wszystkich, jest etanol, posiadający udowodniony, negatywny wpływ na organizm człowieka, skorelowany między innymi, z wieloma chorobami nowotworowymi.
Powszechna jest opinia mowiąca o tym, że piwo wpływa korzystnie na nerki.
Fakt, ale niestety tylko wtedy, gdy Twoje nerki są zdrowe. Natomiast osoby ze schorzeniami nerek, powinny go unikać ze względu na dużą ilość fosforu, którego nadmiar źle wpływa na ich pracę. Piwo nie jest również wskazane dla osób z dną moczanową.
W takim razie czy są jakieś zalety tego napoju?
Całe mnóstwo! Gdy już wyeliminujemy choroby wykluczające jego spożywanie, możemy zacząć zastanawiać się, na ile, dla zdrowego człowieka jest to napój wartościowy.
Piwo samo w sobie nie jest złe. Dostarcza bowiem wielu wartościowych składników mineralnych oraz witamin. Znajdziemy w nim między innymi witaminy z grupy B, magnez, potas, wapń oraz kwas foliowy. Warto jednak pamiętać, że pasteryzacja piwa, zmniejsza ich zawartość, dlatego warto sięgnąć po piwa niepasteryzowane, których wybór (również bezalkoholowych) jest coraz większy, a dostępność prosta.
To jeszcze nie wszystko. Piwo pite z umiarem (maksymalnie 500ml) przyczynia się do zwiększenia przyjętych antyoksydantów, które chronią nas przed chorobami nowotworowymi, hamują procesy starzenia i regulują poziom "dobrego" cholesterolu. Piwo niepasteryzowane zawiera bakterie ułatwiajace proces trawienny, wzmacniające naszą odporność i pomagające walczyć z bakteriami chorobotwórczymi.
Te z dużą ilością chmielu (pite w umiarze), pomagają zapobiegać miażdżycy i zmniejszają ryzyko nadciśnienia, wylewu czy zawału.
Jedyny minus piwa…umiar ;). Często jedno wymusza wypicie kolejnego, a niestety nadmierne spożycie niesie za sobą skutek odwrotny od zdrowotnego ;( .
Pijmy więc z umiarem i mimo wszystkich jego zalet nie traktujmy piwa jako napoju zastępującego ten jedyny naprawdę nas nawadniający, czyli WODĘ.