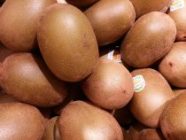 Kupuj świadomie!
Czy zastanawialiście się kiedyś do czego służą naklejki na owocach? Dzieci powiedzą pewnie, że dla ozdoby. I będą miały rację. Klej znajdujący się na spodzie naklejki jest jadalny i przyklejenie jej na małą rączkę nie zaszkodzi dziecku (chyba, że kupujemy owoce pełne pestycydów). Natomiast dla nas, osób dorosłych, zawarta jest tam bardzo ważna informacja i warto nauczyć się ją rozszyfrowywać.
Nie jest to trudne.
Cyferki znajdujące się na naklejce to kod PLU. Kody te jednoznacznie określają, z jakiej uprawy pochodzi dany produkt.
5-cio cyfrowy kod rozpoczynający się od cyfry 9 oznacza warzywa i owoce z upraw ekologicznych. Bez sztucznych nawozów oraz chemii, pozwalającej na długie przetrzymywanie owoców. Jeśli widzimy taki kod, kupujemy!
Natomiast 5-cio cyfrowy kod z 8 z przodu, świadczy o modyfikacji genetycznej. Przed tymi uciekamy! (Tutaj w najbliższej przyszłości pojawią się prawdopodobnie zmiany. O aktualizacjach napiszę).
I na koniec najbardziej popularny kod:
4 -cyfrowy, zaczynający się od 3 lub 4 (to już nie ma znaczenia), charakteryzujący uprawy tradycyjne. Czyli do wyprodukowania danej partii owoców zostały użyte duże ilości pestycydów i sztucznych nawozów.
Nie zawsze na owocach czy warzywach mamy naklejki, więc czytajmy też etykiety.
Polskie przepisy prawne wymagają obecności kilku ważnych informacji na opakowaniach produktów spożywczych:
– nazwy i adresu podmiotu pakującego lub wysyłającego,
– nazwy produktu, jeżeli zawartość opakowania nie jest widoczna z zewnątrz,
– pełnej nazwy państwa pochodzenia lub nazwa potoczna
oraz
klasy jakości produktu.
Są to cenne informacje i wykorzystujmy je dla naszego zdrowia. Nie pozwólmy się oszukać!